Child Care
Looking for Child Care staff?
Australian Work Force provides reliable and experienced child care workers. We have a database of job-seekers available for full-time, part-time or casual positions, for child care centres and other community providers of services to children and infants.
Our specialist team of recruiters understands the staffing needs of this valuable community sector. We can fill your vacancies reliably and quickly because we have a database of pre-screened and available applicants ready to work.
Which child care positions do you need filled?
Australian Work Force recruits child care centre workers in the following roles:
Carer, Certificate III
Carer, Certificate IV/ Diploma
Child Care Centre Manager
Child Care Supervisor
Cleaner
Centre Chefs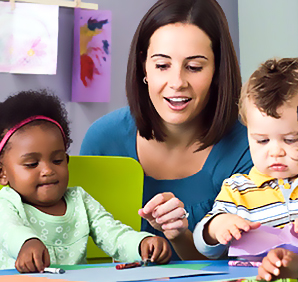 Why use us to find child care workers?
Australian Work Force provides a cost-effective way of finding you the best child care work candidates, quickly. If you don't have the time or resources to read through job applications and resumes, screen and shortlist candidates, check references and schedule first and second interviews, it makes sense to use an experienced job agency to find staff.
Candidates on our database who are looking for work in the aged care sector have already been screened. That means we can jump straight to action when you contact us with details about your vacancy. Our assessment tools have already filtered your most eligible candidates, making the hiring process much faster and easier than doing it yourself.
How are we different?
Our A-Z Policy

When Australian Work Force becomes your recruitment partner, a dedicated consultant is allocated to filling your child care job vacancies.

As well as acting as your representative within our organization to understand and fulfill your staffing needs, your consultant is available to act on your feedback about our services.

Customer feedback is important to us

At Australian Work Force, we believe there's no better way to look after our clients than to ask for their suggestions and feedback. Twice a year, you will be invited to complete a customer survey. Our management values customer replies and acts on your input immediately. We also accept feedback any time, through our website.

Complaint handling policy

Complaints are accepted through our website for prompt attention. A copy of your submission is received by our senior management, including the managing director. Our company policy is to investigate matters within seven days and reply to the complainant within 14 days.

Our Service standards

Our recruitment service pledge to customers is to:

Supply you with a quote or rate within 24 hours
Supply a detailed invoice
Allocate a dedicated recruitment consultant within 24 hours of your order
Inform you of staff availability within 48 hours
Follow-up within 24 hours of staff placement
Personally answer your call within six rings

Full Service RecruitmentWe take care of everything for you to save you time & efforts. From interviewing candidates, short listing, reference checking, contracts, etc.

Competitive RatesOur promise is to provide you with high quality service at higly competitive rates

Large & Filtered DatabaseWe have over 100,000 candidates that have had their applications filtered by our consultants to guarantee quality

Urgent & Specialized HiringWe can provide staff within 24 hours! That's how confident we are in our database. Speak to our consultant for specialized recruitment

Quick QuotesWe will give you a quote within 24 hours

Australia Wide OfficesWe have offices in every Australian estate